Hello.
My name is Koji Yamada.
I have been working in fashion for many years in Tokyo.
Currently, as a fashion analyst, I mainly work on blogs and publish books.
In this blog, I will introduce the fashion of Tokyo that I love and the food of Tokyo.
Secondhand book market held in Kichijoji
I learned on Twitter the other day that a secondhand book market will be held at Kichijoji.
ちょうど久し振りに吉祥寺に行こうかと思ってたところ。 https://t.co/YArCQJcstP

— 山田耕史 書籍「結局、男の服は普通がいい」発売中 (@yamada0221) 2022年5月19日
I've been to Kichijoji recently, but my destination is Inokashira Park Zoo with my children.
本日のメインは井の頭自然文化園。
平和でした。 pic.twitter.com/lB0rbGQAeu

— 山田耕史 書籍「結局、男の服は普通がいい」発売中 (@yamada0221) April 8, 2022
I hadn't walked around the city of Kichijoji by myself, so I thought this secondhand book market was a good opportunity and decided to visit Kichijoji for the first time in a while.
The shops I visited this time are shared on this Google My Map.
Ramen shop that collaborates with popular select shops
I had a business in Shinjuku that day, so I decided to take the Chuo Line from Shinjuku to Kichijoji.
I rarely go to Kichijoji from Shinjuku, so when I checked the route on Google Maps, I noticed that I was passing through Nishiogikubo.
There was a ramen shop in Nishiogikubo that I've always wanted to visit.
That is Menson Rage.
I learned about Menson Rage on the Apartment blog.
the Apartment is a popular select shop that conveys New York culture through its own filters.
As you can see in the blog post of the Apartment above, the staff of the Apartment became addicted to the ramen of Menson Rage and started to interact with each other, and even a unique collaboration between a select shop and a ramen shop was held. ..
Store stance familiar to residential areas
Menson Rage is highly praised by the staff of the Apartment.
I've always wanted to try it, but Nishiogikubo was a city I didn't have a chance to visit.
However, I realized that I should get off the train when heading from Shinjuku to Kichijoji, so I decided to visit for the first time.
Get off at Nishi-Ogikubo station and go south down the shopping street.
It's becoming more like a residential area than a shopping district, and I'm a little worried if there is a popular ramen shop in such a place.
Menson Rage has a store that is so familiar to the city that you might pass by if you are not careful.
Store sign.
There is also an English menu. In fact, when I visited, there was a foreign customer who ordered in Japanese.
I visited after 11 o'clock on weekdays, but the seats were almost full, and I could see how popular it was.
Inside the store where you can enjoy just stickers and artwork
Stickers are affixed to the walls of the store, just like a street shop.
There was also a sticker for the Apartment (central brown) in the seat where I sat.
As you can see from the shop's Instagram, art works and skateboards are displayed in addition to stickers. If you like street, you can enjoy it without eating ramen.
Of course, since I visited there, I will eat ramen. This is the menu.
Explanation of ingredients on the back of the menu.
I asked for the Shamo chicken soba, which is the signboard menu. The Shamo chicken soba brought by the fashionable staff's older brother is as delicious as expected.
However, it was this replacement ball that exceeded my expectations.
Looking at the reviews on Google Maps, the evaluation of the replacement ball was very high, so I asked for it and it was a big hit.
This spare ball is soaked in the remaining ramen soup and eaten like tsukemen, but the spare ball itself also has a flavor.
So, it's the first experience that the replacement balls alone are delicious, and of course the tsukemen are also delicious. I am very satisfied with the rotation of eating only with spare balls → making tsukemen and eating.
Next time, I definitely want to try Niboshi soba.
Nishiogikubo with a nice atmosphere
Well, I'm full.
Kichijoji, the biggest destination today, is only one station away from Nishiogikubo, so I decided to walk.
The city on the Chuo Line has a strong messy atmosphere, and honestly, I have an image that I'm not good at. However, I felt that Nishiogikubo, which I visited for the first time this time, has a very nice atmosphere.
For example, a real estate agent in the line of Menson Rage. Including the cacti lined up in the store, the retro feel of the store is wonderful.
This is a building that seems to be a former dental clinic that I found on the way from Nishiogikubo to Kichijoji. It had a pretty strong presence.
I found such a signboard in front of Nishiogikubo station.
SPY x FAMILY, I'm addicted to watching it with my whole family. I'm grateful to see it on Amazon Prime Video.
About 30 minutes walk from Menson Rage, I arrived at the Apartment in Kichijoji.
Here, I found a ladies' size black sock that was comfortable to wear and I wore on this day as well. She was a little worried, but she didn't wear black socks so much, so she went through.
Near the store, the staff was taking pictures that seemed to be for blogs and Instagram.
A reuse shop in Kichijoji with a wide selection of products
By the way, when I visited Kichijoji before, what was very impressive was the good selection of reuse shops. When I look back on my favorite items such as Comme des Garcons, high-tech sneakers, and old Marui sneakers that I was paying attention to at the time, I was able to dig a lot of good products that made me think "I should have bought them".
So, I decided to go around the reuse shops in Kichijoji this time as well.
First of all, the mode-off Kichijoji store near the Apartment.
Here, from the very beginning, dig your favorite Air Max 93.
Although I love it, I have different colors, and I don't wear the different colors at all in the first place, haha. As is the case on this day, I actually wear only ASICS, which is the most comfortable to wear.
There were some items I was interested in, such as Issey Miyake shoes that seemed to be 00s, but I couldn't buy them.
By the way, next to this mode-off Kichijoji store, there is a hard-off that is strong in music, equipped with a musical instrument studio and an audio salon.
When I left the mode off and looked across the street, I happened to find a second-hand bookstore.
This is a store called Fujii Bookstore. This shop didn't sell much of the fashion books I was looking for, but it had a large selection of cultural items such as movies, photographs, and art.
Head toward Kichijoji Station, the center of the city.
Inside the arcade is the Second Street Kichijoji Sun Road store. Most of the above Instagrams were products from this shop. Although the area is not large, the store, which consists of 4 floors, has a wide range of items from designers to used American casual clothes. I couldn't find a remarkable product this time, but if I check it regularly, I feel like I can find a bargain.
Go through the arcade and head toward Tokyu Department Store. The Harajuku Chicago Kichijoji store is located in an area lined with stylish small shops.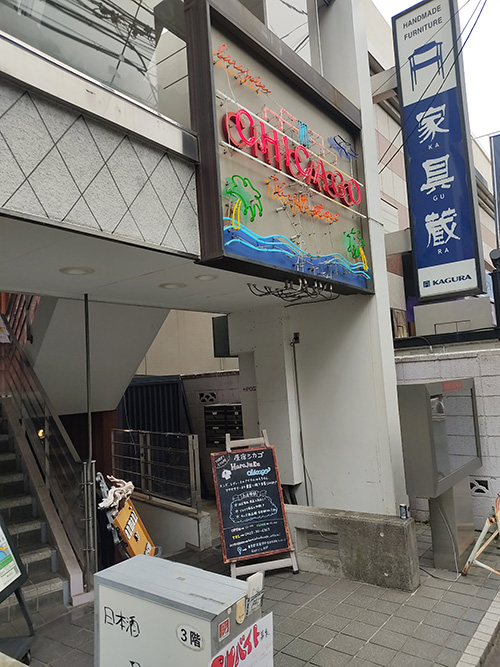 Perhaps the second-hand clothing store in Tokyo where I shop the most is Harajuku Chicago. Just like Harajuku and Shimokitazawa, which I usually go to, there are many reasonably priced American second-hand clothes in the large store where you can enter without hesitation. Here, I found a Nike Challenge Court T-shirt, which is the signature line of Andre Agassi, a tennis player representing the 90's, but unfortunately the size does not fit.
Serious dig in the once-in-a-lifetime secondhand book market
After that, we went to the second-hand book market "TOKYO BOOK PARK Kichijoji" held on the 2nd floor of Kichijoji Parco, which was the main purpose of the day.
「最高の古本屋」イズ・バック。昨年10月に惜しまれつつ幕を閉じた「TOKYO BOOK PARK吉祥寺」(@吉祥寺パルコ)が帰ってきました!本日から5ヶ月ちょっとの間、約20店の古本屋がわくわくをもりもりに並べて皆様のご機嫌を伺います。それでは10月末までご贔屓のほど、何卒よろしくお願い申し上げます。 pic.twitter.com/nI3RB2fipd

— TOKYO BOOK PARK (@TOKYOBOOKPARK) 2022年5月20日
TOKYO BOOK PARK is a mobile secondhand book market where multiple secondhand bookstores participate, and I happened to encounter a place that was previously held at the Tokyu Hands Shinjuku store.
新宿のハンズで古本イベントやってるのに偶然遭遇。
で、爆買してます。 pic.twitter.com/7s6QSPEgSr

— 山田耕史 書籍「結局、男の服は普通がいい」発売中 (@yamada0221) 2021年11月12日
I bought a lot of books in Shinjuku with an assortment of items that touches my heart, mainly in fashion.
今日の戦利品。
僕が生まれた1980年前後のポパイが充実していました。
テニス特集は全てゲット。自転車特集やアラスカ特集なんかも読むのが楽しみです。 pic.twitter.com/HGf1TsDBTq

— 山田耕史 書籍「結局、男の服は普通がいい」発売中 (@yamada0221) 2021年11月12日
最後は98年オリーブ。広末涼子。可愛いの最上級。 pic.twitter.com/zBdxuNO3Dz

— 山田耕史 書籍「結局、男の服は普通がいい」発売中 (@yamada0221) 2021年11月12日
今日の戦利品。
'88宝島。
ブルーハーツの東北ツアー密着。パンク研究。
そして、高木完&藤原ヒロシの初代ラストオージー! pic.twitter.com/iONE0FidB0

— 山田耕史 書籍「結局、男の服は普通がいい」発売中 (@yamada0221) 2021年11月19日
Fashion magazines and books are enriched this time as well. I found a studio voice featuring Martin Margiela that I also own.
I feel that used books are more once-in-a-lifetime than used clothing.
Therefore, in such a secondhand book market, I seriously dig through the venue from corner to corner. There were quite a lot of books this time, so I think I was at the venue for more than 30 minutes.
Take a break at Inokashira Park
After leaving the venue, I noticed that my eyes were quite tired. I've been walking all the time and I'm tired, so I'm heading to Inokashira Park for a short break.
Go south from Kichijoji Station, and when you pass through a corner of shops with a nice atmosphere, you will see greenery.
Is it about 5 minutes from the station?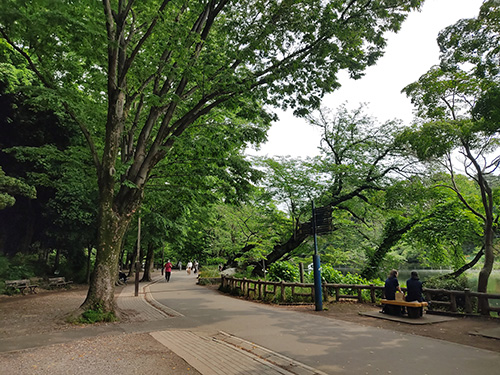 It's a weekday, so it's a laid-back atmosphere. Rest your body while gazing at the spreading greenery.
However, I'm curious about the used books I got by digging. This time I bought 3 POPEYE books from the 90's.
In addition to that, I bought the "Elmer's Adventure" series.
My family goes to the library once every two weeks and borrows children's picture books, and Elmer is a favorite of his 6-year-old son. He has borrowed many times, so I was lucky to find it at this "TOKYO BOOK PARK" just before I thought I would buy it if I liked it so much. Moreover, the second printing of 1965. After this, I was overjoyed to take it home and show it to my 6-year-old eldest son, so that alone was worth the dig.
I intended to just take a rest at Inokashira Park, but I couldn't help but stay longer because of the peaceful atmosphere.
It makes me smile when I see a young couple playing on a swing.
I think the good thing about Kichijoji is that the distance between the city and nature is very close.
Visiting used clothing stores in the leisurely area of Kichijoji
After leaving Inokashira Park, I headed to the sneaker shop SKIT Tokyo Kichijoji store.
The inside of the store, where used sneakers are lined up in a narrow space, is truly an eye-opener for sneaker lovers. Most of the stores I visited after a long time are popular Nike, but I was surprised that ASICS, which was rarely handled before, has increased significantly. I'm honestly happy that ASICS, which I personally love very much, is becoming more popular.
The area on the north side of Inokashira Park has a laid-back atmosphere. One of the shops that you will definitely visit when you come to this area is the L.L.Bean Flagship Kichijoji store.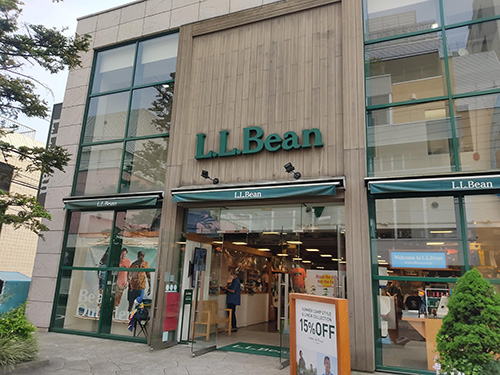 This is also the Santa Monica Kichijoji store that you will definitely visit. It is a long-established store among used clothing stores in Tokyo, with shops in Shibuya and Omotesando.
Next to that, there was a new second-hand clothing store called GOOFY'S.
Is it because it is a new store? It was not listed on Google Maps at this time.
The Instagram of the shop posted in the article below seems to have been deleted now, and the details are unknown, but it was open properly on that day. The center of the assortment was basic American second-hand clothes, which were crowded with crazy girls.
In fact, there are many other used clothing stores in this area. I didn't have much time this time, so I went around only the larger ones.
One of them is the NEW YORK JOE EXCHANGE Kichijoji store, which also has stores in Shimokitazawa and Shibuya.
Since we are focusing on purchasing, it is closer to a reuse shop than a used clothing store, and you can find bargains at a relatively reasonable price. Here, like Harajuku Chicago, I found a Nike Andre Agassi model T-shirt. I passed through, but I still feel a little regretful as I write this article ...
At the RAGTAG Kichijoji store, check the shelves of Comme des Garcons.
There were many other second-hand clothing stores that I wanted to visit, but at the next opportunity.