Hello. My name is Koji Yamada. 
I have been working in the fashion industry in Tokyo for many years, and recently I have been working as a fashion analyst, mainly on my blog. 
For my job, I have visited countless fashion-related stores and continue to research regularly and explore new stores. 
In this blog, I would like to introduce some of the fashion stores I have found during my research, as well as some of the delicious and reasonably priced restaurants I have visited during my research.
Surprisingly many rooftop gardens in Tokyo
Tokyo is lined with countless commercial buildings, including department stores and fashion buildings.
Naturally, every building has a rooftop, and there are a surprisingly large number of commercial facilities in central Tokyo whose rooftops are open to the public.
新宿丸井にこんな屋上庭園があるの、知りませんでした。
机もあるから仕事もできる!と思ったのですが、日差しが強くてPCの画面がまともに見られませんでした笑。
このフロアにはエレベーターで行けないため、ひとつ下のフロアにベビーカー駐車場がある親切っぷり。素晴らしい。 pic.twitter.com/md560CtyC3

— 山田耕史 書籍「結局、男の服は普通がいい」発売中 (@yamada0221) 2020年12月25日
新宿の小田急百貨店に屋上庭園があって、ちょっとした遊具も設置されてるなんて知らんかった。 pic.twitter.com/a1fhRbOmaM

— 山田耕史 書籍「結局、男の服は普通がいい」発売中 (@yamada0221) 2022年5月7日
However, I suspect that rather few people know about the rooftops of commercial facilities that are open to the public.
The rooftops I introduced in the tweet above are all places I found by chance.
So this time, I researched attractive rooftop gardens in Ginza, Tokyo, where there is a forest of department stores and commercial facilities.
The locations that appear in this article are shared here on Google My Map.
Ginza Terrace at Ginza Mitsukoshi
The first stop was Ginza Mitsukoshi, a symbol of Ginza. This building is designated as a National Important Cultural Property.
ということで、銀座なう。 https://t.co/s1C7vG1tzi pic.twitter.com/x76puBFfyL

— 山田耕史 書籍「結局、男の服は普通がいい」発売中 (@yamada0221) 2022年8月12日
The top floor of Ginza Mitsukoshi is the 12th floor.
And this time, I would like to introduce the Ginza Terrace on the 9th floor. So it is not a rooftop from the start.
The ninth floor is a restaurant floor, part of which is an outdoor facility.
The Mikimoto building can be seen in the back. The center of the Ginza Terrace is covered with natural grass.
The mark of Mitsukoshi is so close.
Green by the lawn.
It has an elegance that makes me think of it as a quintessential Ginza department store.
Unfortunately, the lawn was off limits while it was being cured. It is quite spacious, so it seems to be fine for children to run around.
Long benches are set up around the lawn. A small snack may be served here.
Shrine on the roof of Mitsukoshi
In one corner of the rooftop was an unexpected facility.
To my surprise, there is a shrine called Mimeguri Shrine.
The shrine is said to be dedicated to the guardian deity of the Mitsui family, who founded Echigoya, the drapery shop on which Mitsukoshi was based.
There is also a large Jizo statue.
This one is called Ginza Shuse Jizoson, but its origin is not clear.
I also paid a visit to the temple because it is said to bring good fortune, success in life, prolongation of life, and prosperity in business.
The restaurant is lined with interior rooms from the terrace. Tables and chairs are set up near the windows on the floor.
Quite a few seats. It was very empty, partly because it was the first thing in the morning on a weekday. There are no electrical outlets, but it seems to be able to handle a short break or work without difficulty.
There was also some more space to relax.
On the same floor, there is a nursing room and a kid's restroom, so that people with children can spend their time in peace.
MGC Terrace at Matsuya Ginza
The next stop was Matsuya Ginza, adjacent to Ginza Mitsukoshi.
Like Ginza Mitsukoshi, MG Terrace is located on the 8th floor, one floor below the rooftop.
It is quite small. Can you call it a natural grass plaza...? I don't know. Well, I can't think of any other way to call it, so I guess I'll just call it a square.
Looking up, you can see ducts. I think one of the advantages of rooftops (even though this is not a rooftop) is that you can catch a glimpse of a side of the building that is not usually seen.
The plaza is surrounded by sofas with a luxurious atmosphere typical of a department store.
There are also seats with tables. This would be a good place to have lunch.
There is also a hand washing area which is great for those with children. There is also a small washbasin for children.
Trash cans and vending machines as well. The lack of product variety in the vending machines is a slight concern, but...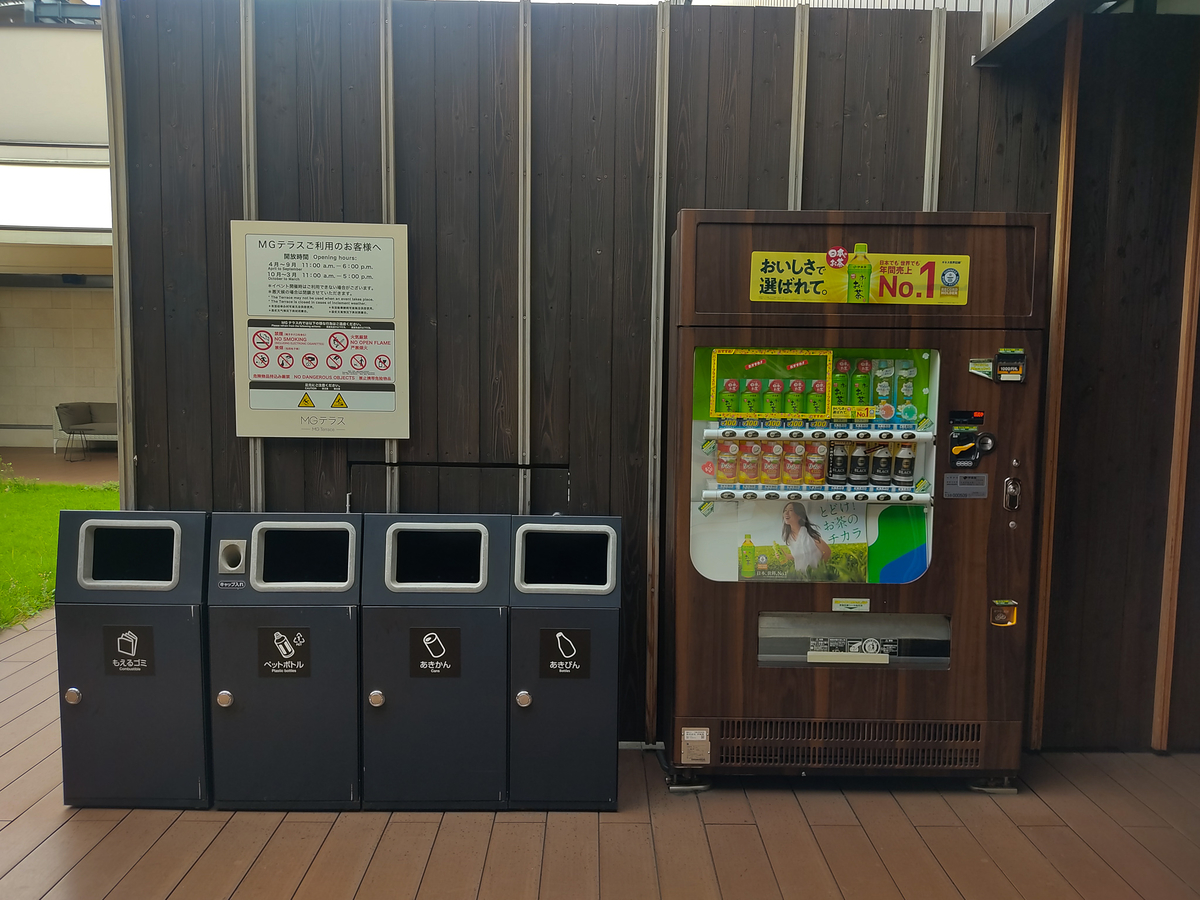 Chicken, Dried Chicken and Hamaguri Ramen
Now it is almost time for lunch, so I head to my next destination, a ramen shop behind Ginza Six, called Mugi to Olive.
This is a ramen shop that has been on my radar for some time.

twitter.com
I went at 11:30 a.m., the opening time, so I was able to get into the restaurant smoothly, but I heard that there is often a line.
Ticket machine.The only available payment was cash.
When I take my seat, I am offered cold water and wet wipes. If you ask a staff member, you will also receive a paper apron.
I chose the Triple SOBA (1,000 yen), which consists of chicken, niboshi (dried sardines), and hamaguri (clams). I love chicken, dried sardines, and clams, so I was curious to find out what the combination of these three would taste like. I was intrigued.
The soup has a strong sense of chicken and marble. My palate did not detect much niboshi, but it was very tasty and went well with the noodles.
The topping here was yam, which is rare for ramen. This is also a good salty taste.
It was a high quality dish that made me want to try the other dishes on the menu.
Urban oasis, Ginza Six Garden
After filling our stomachs with delicious ramen, I headed to Ginza Six.
The rooftop (finally a rooftop!) here is located at Ginza Six Garden.
Through the facade I saw...
This is the rooftop! A space with a sense of openness.
I couldn't help but tweet about it.
ギンザシックスの屋上が、眺めが良くて、広くて、緑がいっぱいで、とっても素敵です!
しかも、平日だからでしょうけど、人影もまばらで、ゆっくりのんびり過ごせます。
これは良いスポットを見つけました。 pic.twitter.com/cO7lnF6Igi

— 山田耕史 書籍「結局、男の服は普通がいい」発売中 (@yamada0221) August 12, 2022
The main rooftop area is the grass square.
Enough space to call it a plaza. Some families actually let their children play on this grass square. The rooftop of GINZA SIX GARDEN is quite spacious, so it is safe to let children play freely.
And what is most attractive is the abundance of trees.
There is so much greenery that it is hard to believe that you are in the middle of the city center.
Moreover, there are many benches and other amenities that provide plenty of places to sit and relax.
It is truly an urban oasis.
Trash cans are also provided.
Of course, the scenery seen from GINZA SIX GARDENS is also outstanding. In some places, you can even see the ocean beyond the streets of Ginza!
What I personally enjoy is being able to see the rooftops of other buildings.
It's interesting to see these outdoor units lined up and so on.
What a surprise to see an excavator entering this building. It would be difficult to see something like this from the ground, but only on the rooftop can you see it.
The building with mannequins across the street is the UNIQLO Ginza store.
It also overlooks Ginza-dori, the main street of Ginza.
There is a torii gate on one corner of the rooftop.
This is the god of fire prevention, and at the time of the Great Kanto Earthquake, Matsuzakaya, the predecessor of this Ginza Six, was plain.
Matsuzakaya was the first department store in Ginza. I did not know that.
There is a staircase from the rooftop down to the 13th floor, one floor below.
Here, too, there is an abundance of greenery.
Vending machines were located on this floor.
The 13th floor is a restaurant floor. However, there are benches where you can take a break like this.
The view is very nice, but the atmosphere is not the right place to work or anything lol.
GINZA SIX also has a Tsutaya bookstore.
It would be nice to take a break at GINZA SIX GARDENS after hanging out at the Tsutaya bookstore.
Stores I would like to visit when I go to Ginza
Now, diagonally across from the Ginza 5-chome intersection where Ginza Six is located. There is a building with a signboard of LaOX on the roof.
The #WorkmanGirls is a tenant in this building.
We have previously provided a report on the preview in a previous article here. (Sorry, the article is in Japanese.)
This store is special in that you can pick up and purchase not only clothing, but also camping gear, including tents, which are basically exclusive to the online store.
And behind the UNIQLO Ginza store, visible from the rooftop of Ginza Six, is Dover Street Market Ginza.
It is a select store owned by Rei Kawakubo, a designer I admire.
There are many things I want to write about Dover Street Market Ginza, and I hope to compile them into an article someday.
Chirico Terrace at Tokyu Plaza Ginza 
And the last place I visited this time was Tokyu Plaza Ginza, a commercial facility directly connected to Ginza Subway Station.
Located on the rooftop of Tokyu Plaza Ginza is Kiriko Terrace.
After visiting the super-sufficient Ginza Six, it may seem a bit inferior, but I think this is still an adequate rooftop garden.
A bench with a view of Ginza.
It's hard to find a place where you can look down on the Hermes building from above.
The plaza is artificial turf.
In one corner are tables and chairs.
Is this due to the Corona disaster? It seems that the space is now called a work space. The tables are equipped with power outlets.
But when I visited, there were zero people working. It was crowded with families with children and couples.
Trash cans are also available.
There was also a space equipped with Moët & Chandon chairs.
Unique rooftop gardens
So, each building has its own rooftop garden with quite a different character.
There are countless department stores and commercial facilities in Tokyo besides Ginza.
I am sure there are even more interesting rooftop gardens, so I will continue to do research and if I find a good one, I will introduce it on this blog.