Hello. My name is Koji Yamada.
I have been working in the fashion industry in Tokyo for many years, and recently I have been working as a fashion analyst, mainly on my blog.
For my job, I have visited countless fashion-related stores, and I am still researching and developing new stores on a regular basis.
In this blog, I would like to share with you some of the fashion stores I have found during my research, as well as some of the delicious and reasonably priced restaurants I have visited during my research.
Coverage is current as of May 2022
Here are some of the stores I visit to check out the trends
Now, the town I will dig this time is Shinjuku.
I used to work for a fashion planning company.
One of the tasks I was in charge of for many years was analyzing street snapshots, and the idea of "normal clothes" with simple and basic designs that I propose in my book "In the End, Normal Clothes for Men are Good" is based on my experience at that time.
And the whole team I was on was creating men's fashion trend forecasting materials.
Based on various researches, we would forecast trends for the next one year and make proposals to apparel makers and retailers.
It has been about six years since I left the fashion planning company, and recently I have been assisting in the creation of the men's fashion trend forecasting materials.
I do a lot of research for the trend data, and this time I would like to introduce some of the stores in Shinjuku that I visit to check out the current trends proposed by the stores and brands.
All of the stores I will be introducing are listed here on Google Maps' My Map.
Before researching, I visited this restaurant. This is the Shinjuku Nishiguchi Store of Yomodasoba.
I happened to see a review article about this restaurant the day before this one and suddenly had a hankering to try it, so I visited first thing in the morning before my research. In Tokyo, there are branches not only in Shinjuku, but also in Ginza, Nihonbashi, and Okachimachi.
A feature of Yomoda Soba's menu is its wide variety of dishes. Just from the signboard in the store, you can see that there are quite a few variations.
A friend later told me that Yomoda Soba is very famous for its curry. I would definitely like to try it next time.
A full set menu is also available.
Oh, and the chicken noodle soup in the lower right corner looks delicious too.
I visited the restaurant around 10:00 in the morning. It was a weekday and I was the only customer. The restaurant is not a standing restaurant, but a counter with chairs.
So, I chose this Beni Ginger Tempura Soba. I generally like red ginger tempura, but unfortunately, I did not like the taste of this restaurant's tempura very much. However, the soba itself and the sauce were delicious, so I would like to try other dishes on the menu when I return.
After we finished eating and left the restaurant, we noticed that there was also a Hakone soba restaurant in the same row.
I love Hakone soba. I truly believe it is one of the best foods in the world.
箱根そばの小海老入りかき揚げ天そば。
提供スピードの早さ、お店のアクセスの良さ、手頃な価格。
そして毎回必ず満足してしまう美味しさ。
「食」の到達点のひとつではないかと、割と本気で思ってます。 pic.twitter.com/xfiRzKBCUU

— 山田耕史 書籍「結局、男の服は普通がいい」発売中 (@yamada0221) 2022年5月6日
I always go to "Hakone Soba Honjin" just outside the ticket gates of Odakyu Shinjuku Station, but I did not know there was another restaurant here. I would like to visit this place again.
LUMINE EST Shinjuku
Now, here comes the research. The stores we will introduce here are only those located in commercial facilities adjacent to JR Shinjuku Station, so you can get around almost without getting wet, even on a rainy day.
LUMINE EST SHINJUKU is the core of trend research in Shinjuku.
This time I will be researching men's trends, but I will also check out the women's floor as well.
Fashion that is proposed for both men's and women's wear is likely to become popular, and fashion that is popular among women's wear may become popular among men's wear later.
So I try to check out ladies' stores and fashion media as much as possible.
The men's floors of LUMINE EST SHINJUKU are on the 5th and 6th floors. The main target seems to be 20s.
Recently established is a thrift store, Desert Snow.
This is a thrift store from Machida, which appeared in a previous article on Dig in Shimokitazawa.
This is the first time a full-fledged thrift store like this has opened a permanent store in LUMINE EST.
They mainly carry basic American vintage clothing, including Polo Ralph Lauren shirts, which I also love.
I took a quick look at the merchandise, and it seems that prices are not higher just because it is in Shinjuku.
This is Lewis, also on the 5th floor. This is a fashion select store. As is the case with all select stores, the percentage of original items has been increasing recently.
Also on the 5th floor, Freak's Store focuses on American casual wear.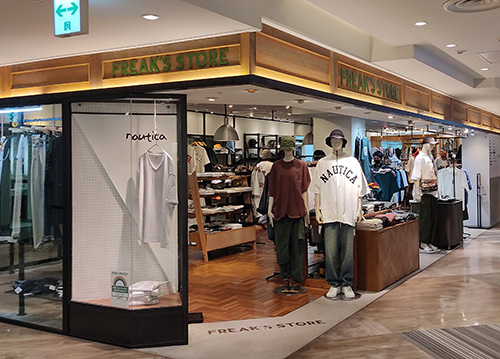 This store sells Nautica, which is directed by my favorite stylist, Akio Hasegawa.
Here are the stores on the 6th floor. First up is Rulez by Rawdrip.
Like Freak's Store, this store is mainly American casual, but it can be called a select store in the true sense of the word, dealing mainly with imported items from the United States. Therefore, I personally have a very favorable impression of this store.
They also carry the Railroad Sock socks that I love to use.
This is ABC Mart's Grand Stage, a business category that sells not only shoes but also apparel. For what it's worth, shoes sold at ABC Mart are shoes that are worn by the public, so I try to check them out.
Hare, a mode brand like Lui's.
Like Hare, Rage Blue is a brand of Adastria, a major apparel manufacturer. My perception of this area is that the style is close to the realistic style of the average college student.
Wego has a bit of a mischievous atmosphere, and its target audience includes college students as well as middle and high school students in a slightly younger age range.
From here, go down to the basement at once. On the second basement floor, in front of the Marunouchi Subway Line ticket gates, is BEAMS, a store synonymous with select stores.
Both men's and women's clothing are available here, including a slightly more adult-oriented line, Beams Lights, and a section for Beams T, the main line of T-shirts.
So far, Lumine Est.
FLAGS
So, next we will head to Flags. Like LUMINE EST SHINJUKU, this commercial facility is adjacent to JR Shinjuku and is marked by GAP on the first floor.
On its second floor is Journal Standard. Among the major select stores, many of the items seem to be somewhat peculiar.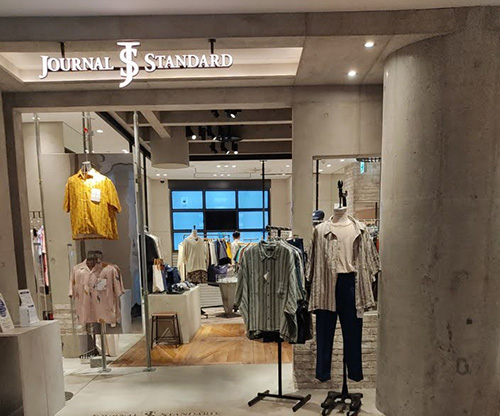 Located on the 6th floor is Oshman's. It carries a wide range of sportswear, shoes, and goods, with a focus on the outdoors.
When I visited, the "Surplus & Outdoor" section was prominently located in front of the escalator.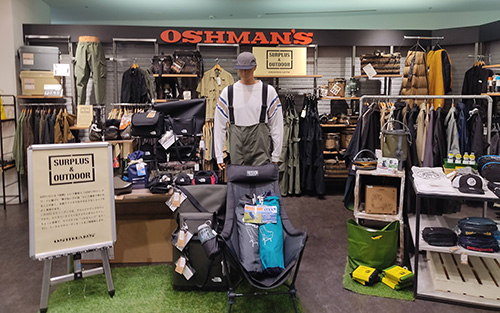 This is a proposal for solo campers, selected from military-style outdoor goods.
Mixed in with the outdoor brand items were original Oshmans items, but there was nothing incongruous at all.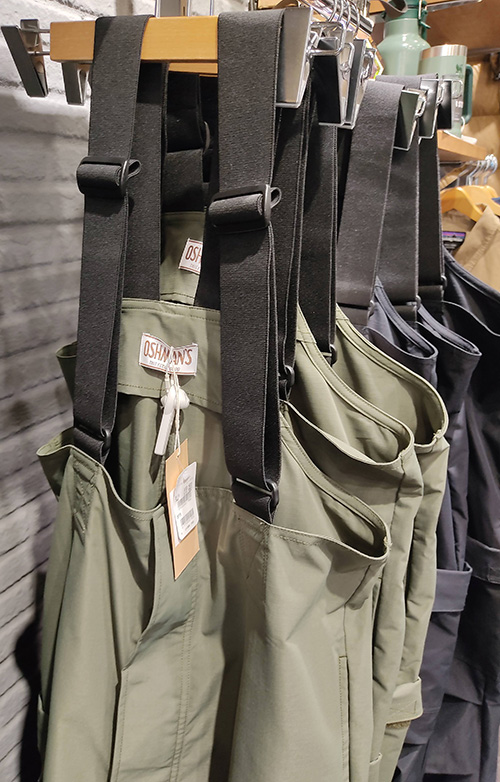 Lumine 2
The next stop was LUMINE 2, located above JR Shinjuku Station and home to the famous Yoshimoto Kogyo theater, LUMINE the Yoshimoto.
While LUMINE EST was mainly for trendy stores for 20s, LUMINE 2 is mainly for stores with a slightly more relaxed atmosphere for 30s and older.
Located on the third floor is Nano Universe. It used to have a slightly badass, masculine, or unique atmosphere, but the rebranding is said to change the image this year.
On the fourth floor is Journal Standard Relume. Compared to Journal Standard, it is a low-priced store with a less aggressive design, aimed at the masses, and based on an American casual style with an atmosphere similar to that of Freaks Store.
From the 6th floor is UNITED ARROWS GREEN LABEL. This is an adult-oriented and low-priced business-oriented suit category of UNITED ARROWS.
Lumine 1 
The last store I visited this time was LUMINE 1.
Like LUMINE 2, LUMINE 1 mainly targets shoppers in their 30s and older, but the stores are trendier and pricier than those in LUMINE 2.
On the first floor is United Arrows.
This store also carries designer brands and Chrome Hearts.
These are just a few of the stores introduced here, but there are naturally many more in the Shinjuku Station area.
The charm of Shinjuku is that you can visit stores efficiently in a short time in the commercial facilities adjacent to the station.
We hope to introduce you to other shops in the future.