Hello. My name is Koji Yamada.
I have been working in the fashion industry in Tokyo for many years, and recently I have been working as a fashion analyst, mainly on my blog.
For my job, I have visited countless fashion-related stores and continue to research regularly and explore new stores.
In this blog, I would like to introduce some of the fashion stores I have found during my research, as well as some of the delicious and reasonably priced restaurants I have visited during my research.
Jimbocho, one of the world's leading used book towns
Now, no clothing stores will appear in this article at all.
However, we will introduce a store that is very closely connected to fashion.
The place is Jimbocho, known as the town of used books.
I started collecting old fashion magazines, mainly from the 90s, about 3 years ago, and have introduced them on my blog [Fashion Archive].
I also use Mercari and Yahoo! Auctions to collect old magazines, but I think the place where I have purchased the largest number of used magazines is at a used bookstore in Jimbocho.
久し振りに神保町に行ったら、僕が生まれる前後の1977~81年のPOPEYEがお安くなってたのでまとめ買い!
徐々にブログでご紹介していきますねー。 pic.twitter.com/HdqBnmmD1o

— 山田耕史 書籍「結局、男の服は普通がいい」発売中 (@yamada0221) 2021年9月10日
Until I started collecting old magazines, I had only visited Jimbocho a handful of times despite living in Tokyo.
However, I am now so hooked on the charm of Jimbocho that I think it is worth living in Tokyo just to have easy access to it.
And so it should be.
The concentration of used bookstores in the Jimbocho area, also known as Kanda Koshotenmachi, is one of the largest in the world.
The number of stores is so vast that it is worth digging and digging and digging and digging.
Japanese Fashion Magazines Growing in Popularity Abroad
I think it has long been known that Japanese street snapshot magazines such as Fruits and Tune are popular overseas.
In addition to Snap magazine, a growing number of Insta accounts have recently been posting fashion magazines from the 90s and beyond, attracting a large number of followers.
This is my Instagram account dedicated to introducing fashion magazines.
In fact, we have also been running an English-language blog for some time to introduce fashion magazines to the rest of the world.
I have received enthusiastic comments on my Instagram and on my blog from people overseas, and I have realized that Japanese fashion magazines are gaining popularity overseas.
Jimbocho is without a doubt the best place in the world to find such Japanese fashion magazines.
Therefore, in this article, we will focus on secondhand bookstores in Jimbocho that are strong in fashion-related products.
The stores introduced in this article are listed on this Google Map.
Famous curry restaurants recommended on Twitter
I usually head to the interview for this article after dropping my second son, age 4, off at daycare!
However, on this particular day, I had to go to my 9-year-old daughter's and 6-year-old son's class visits in the morning.
今日は小学校の参観に。
2週間くらい設定されている参観期間なら、いつ行ってもいいので楽です。

1年生の教室に貼られていた親へのメッセージカード、6歳長男の「ありがと」の対象には、「いつもごはんをつくって」る、僕は全く含まれておらず… pic.twitter.com/5zoLd9CFhX

— 山田耕史 書籍「結局、男の服は普通がいい」発売中 (@yamada0221) 2022年6月10日
I was at the elementary school until the middle of the third period, so I was already hungry on the train to Jimbocho.
When I tweeted about where to eat lunch, I received a reply with a recommendation.
ボンディでカレーおすすめです✨

— tomatrader (@tomatrader) 2022年6月10日
Bondi is a very famous curry restaurant with its main branch in Jimbocho. In addition to Jimbocho, there are eight other locations in Shibaura and Otemachi.
I have wanted to go there for a long time, but I had heard that there is always a line, so I have not been able to go.
If I went there and it happened to be a long line, I could tolerate it, but if I knew I had to wait in line from the beginning, I would not be motivated to go.
However, it was Friday.
I thought that even though it was lunch time, there would not be so long a line on a weekday, so I headed to Bondi.
What is the weekday lunchtime wait time at the restaurant in line?
Take exit A6 of the subway in Jimbocho and head west on Yasukuni Street, and you will see the Bondi sign on the building.
However, you cannot enter from this entrance along Yasukuni Street. The entrance to Bondi is on the south side of the building.
Here is its entrance. From the outside of the building, I could see three or four people lined up behind the Bondi sign.
I thought to myself, "Maybe this means I won't have to wait long for my food!" I joined the line and found that the line continued on the stairs to the bondi on the second floor. Incidentally, there is a sign on the wall of this stairway that says, "Waiting time is approximately 25 to 30 minutes from here.
As I stand in line, a crisp but courteous waitress hands me a menu.
But I had already decided on the train to ask for Bondi's most famous dish, the beef curry.
At the top of the stairs, a sign announces that the wait time is another 15 to 20 minutes.
Upstairs, chairs are provided.
In the end, I was able to enter the restaurant about 20 minutes after joining the line. I don't have much experience waiting in line at a food restaurant, but this wasn't too stressful.
I'd stand in line again to try it!
The background music is rock. In front of me is a picture of Elvis Presley (right?). 
First, the garnish potatoes & butter were brought to me. Should I eat this first like a salad? I wondered for a moment, but decided to wait for the curry to arrive anyway.
Then, a little later, the "Beef Curry (medium-spicy)" (1,500 yen) was brought here.
When I eat out alone, I usually have noodles, so it has been a long time since I have had curry at a restaurant.
In other words, for a long time I had only eaten curry that I had made myself. Naturally, it was on a different level from curry at home.
The beef was especially delicious.
It is so delicious.
When I scooped it up with a spoon, it kept its shape, but when I put it in my mouth and chewed it, it was surprisingly soft to the touch. And the taste spread in your mouth.
Of course, not only the meat, but also the roux is extremely tasty.
As I was writing this article, I noticed that the table is also equipped with jars of fukujinzuke (pickles) and other ingredients. I took this picture while waiting for my curry to be brought to me. So I should have been aware of the presence of fukujinzuke before I ate it, but once I started eating the curry that was brought to me, I was so absorbed in the flavor that I completely forgot to add the fukujinzuke.
I am not a big fan of spicy food and need a lot of water to eat it if it is even a little spicy, but the medium spicy dish I ordered this time was just right and I did not have to refill my water more than once.
The potatoes that were first brought to us were served with roux, butter, and other arrangements.
The queue is not a bad thing.
People often say things like, "It's worth waiting in line for," and the taste of Bondi's beef curry was certainly good enough to make me want to wait in line again for a similar dish.
I would love to taste this beef curry again, but I am curious about the rest of the menu, so I will probably be very confused the next time I visit.
Also, even though I was quite hungry this time, my stomach was full by the end of the meal.
If you are a small eater, it would be better to have a small amount of rice beforehand.
Damaged specials are inexpensive, Vintage Jimbocho store.
Now, when I eat, I have to consume the calories that go with it.
First, we headed for Vintage Jimbocho, a used book store located along the same Yasukuni Street.
The entrance on the first floor is covered with movie posters.
Fashion products are located on the second floor.
Climb the stairs next to the first floor entrance.
At the end of the climb, here is the entrance to the second floor. The fashion section is on the left as you enter.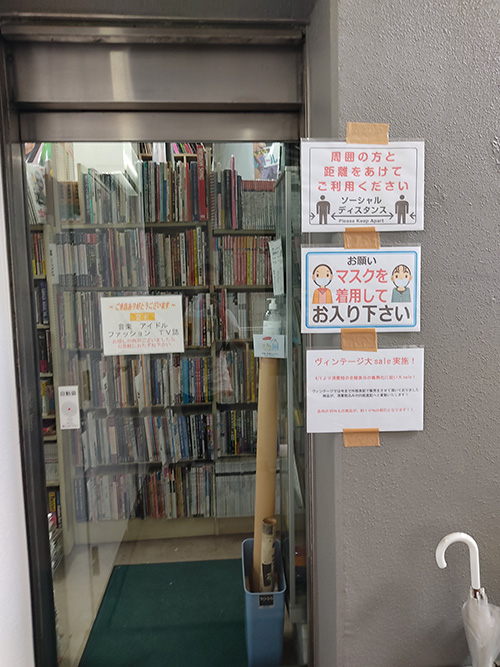 Men's section is mainly fashion magazines such as POPEYE, Men's Non-No, Hot Dog Press, and Men's Club. On the floor are special price items with damage such as missing pages. I don't care much about the condition of the magazines; I just want to be able to read them, so I often visit the special price section.
There's an ACCESS corner! BUNKEN ROCK SIDE
Leaving Vintage, we headed east on Yasukuni Street. The next place we visited was Bunken Rockside, Bunken Shoin.
Here, too, fashion magazines are lined up on the left side of the entrance.
📕ブンケンロックサイド
入って左側にカット🔹スイッチ🔹ブルータス🔹ポパイ🔹フリー&イージー🔹ホットドッグプレス🔹ファイン🔹ブーン🔹平凡パンチの昭和の雑誌の棚があります。
資料探しにもぜひ!!
🚇地下鉄神保町駅徒歩1分#Rock #ファッション #アイドル #サブカル #古本 #神保町 pic.twitter.com/tHLliu9M3U

— ✝️山田玲子✝️ロックな古本屋ブンケンロックサイド✝️黒服メタラー (@brs_rei) 2022年6月14日
But what is more impressive is the assortment of music items.
📚ロッキング・オン棚入れ終わりました🤗

ブンケンロックサイド
🚇地下鉄神保町駅徒歩1分
通販➡https://t.co/tIJbf3h0WG#Rock #Heavymetal #Punk #Newwave #ロッキングオン #古本 #古本屋 #神保町 pic.twitter.com/sxtQW7YitD

— ✝️山田玲子✝️ロックな古本屋ブンケンロックサイド✝️黒服メタラー (@brs_rei) 2022年6月6日
I was surprised to see a section on access, which I loved in middle school (and still love and talked about in a recent interview with Mercury Magazine).
We also have a wide selection of other magazines, books, and goods for X JAPAN and other Visual Kei, as well as idol-related magazines, books, and goods.
Komiyama Bookstore has the best selection of fashion items in Jimbocho
Go further east on Yasukuni Dori. This is the Komiyama Bookstore, which is my main focus in Jimbocho.
GR8 is a leading boutique in Laforet Harajuku that has attracted the attention of international fashion industry professionals, and Komiyama Shoten has also curated an art book store within the GR8 store.
Although the bookstore is very strong in the art field, holding art fairs, etc., it also has the largest selection of fashion books and magazines in Jimbocho, located immediately after entering the first floor.
On the shelves to the left are a large number of rare books on popular designer brands such as Comme des Garcons, Yohji Yamamoto, Martin Margiela, and Vivienne Westwood.
We also have a large selection of 90s and 00s street snapshot magazines popular overseas, such as Fruit and Tune.
Secrets of Wagons in Used Bookstore Stores
Like Vintage and Bunken Rockside, mentioned above, many of Jimbocho's used bookstores have wagons of specials in front of their stores.
Many of the used bookstores in Jimbocho have specialized areas. In most cases, the books on the wagons are books with content that has little to do with that specialty, or books that are recent and have no added value.
Komiyama Bookstore regularly changes the items in its wagons, often offering sale prices on magazines that are usually hard to find. Popular magazines, such as High Fashion on the top shelf and Olive on the middle shelf, are sometimes on sale, so if you are lucky, you may be able to find a great bargain.
This time, I thought, "Oh wow," and I found the 2000 Fashion News. It is a magazine with only photos of collections, but on the cover is the legendary 2000AW collection of my favorite London designer, Hussein Chalayan.
The video is available on YouTube.
There is also a garage sale section located in a side street of the Komiyama Bookstore store. Here you will find photo collections and art books at bargain prices.
Bohemian's Guild with art gallery
Bohemian's Guild is located on Kanda Suzuran Street, one street south of Yasukuni Street.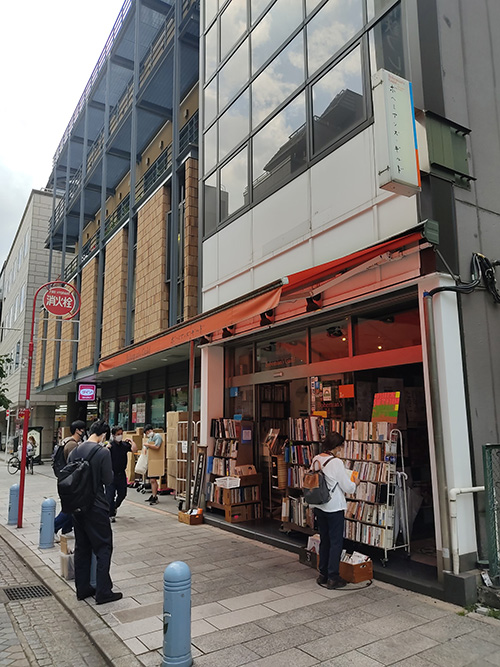 It has an art gallery, and its used book selection is mainly art-related, but it also carries fashion-related items.
Magnif, synonymous with fashion used bookstores.
Located on the same Kanda Suzuran Street is Magnif, synonymous with Tokyo's fashion-oriented used bookstores. The yellow store stands out.
We have a particularly large selection of trad magazines and books, including Men's Club, which are lined up in the back of the store.
In addition to used books, the store also carries new fashion and culture books such as "80s Girls' Fashion Book" and "AMETORA," which we have introduced on this blog.
 Genkido Bookstore found by chance
In Jimbocho, there are not only used bookstores but also many bookstores that sell new books.
Among them, Sanseido Bookstore is a landmark of Jimbocho, and I used to visit it whenever I visited Jimbocho.
However, it is currently under renovation.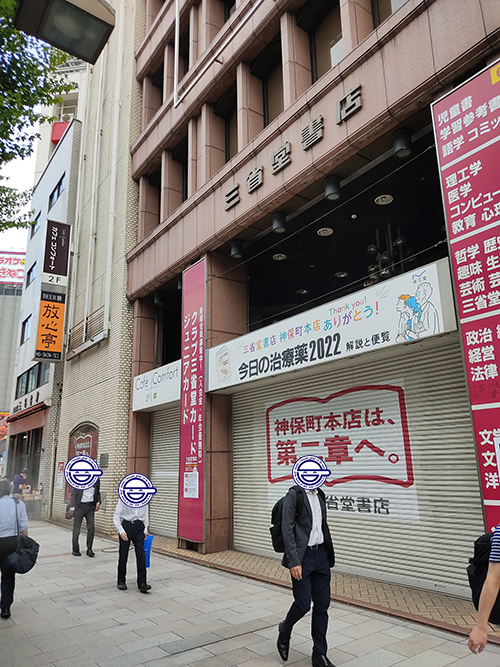 We learned that a temporary store under renovation was open in Ogawa-cho, east of Yasukuni-dori, so we happened to find this Genkido bookstore this time on our way there.
Like Bohemian's Guild, the main focus is on art-related books, but there is also a large selection of fashion-related books, especially photo collections.
There are also many foreign books, but the titles and the language in which they are written are indicated on the spine of each book in large handwritten letters, making them very easy to read.
When I visited this time, I found a photo book of A Basing Ape, which I had never seen before.
It was expensive and I could not afford it, but it looked quite worth seeing.
Tokyo-Do bookstore with the attention to detail of an individual specialty store.
The Sanseido bookstore that I had been using to check out new books was undergoing remodeling, and the temporary store was a little too sensitive, so I looked for an alternative bookstore and found this one, the Tokyo Do Shoten Kanda Jimbocho store.
However, its character as a bookstore is quite different from that of Sanseido Bookstore.
The charm of Sanseido Bookstore is anyway its vast store.
And the bookstore was very useful for learning about current trends, such as the popular ranking section on each floor on the first floor.
Comparing it to a clothing store, it is like a major select store such as Beams or United Arrows.
In contrast, Tokyo-Do Bookstore has the atmosphere of an individual select store that reflects the owner's particular tastes.
The staff's suggestions are clearly articulated, and unique books that are not easily found in other bookstores are prominently displayed, making it possible to enjoy new encounters with books that you may not have known existed.
However, it is not overly particular, and with popular books available on the three floors of the spacious store, I felt that the store is very well balanced.
There is also a café inside the store, where you can enjoy a long stay.
毎月10日はPaper Back Cafe全品10%オフを実施いたします!!!
新メニュー商品も現在販売中ですので、是非ご利用くださいませ。
皆様のお越しを心よりお待ち申し上げております。
東京堂書店 / Paper Back Cafe pic.twitter.com/cyvf47VwzZ

— 東京堂書店@神保町 (@books_tokyodo) 2022年6月9日
Today's Booty
This is the one I got that day. It was the September 15, 1993 issue of POPEYE, which I picked up at Vintage Jimbocho. The feature article is "The Art of Normal Fashion".
Ordinary clothes" was a major theme of my book, "In the End, Normal Clothes for Men are Good.
I still keep thinking about what "normal clothes" are, and since I am planning a new project on the theme of "normal" in the near future, I bought this for reference as well.
I haven't had a chance to look over the contents thoroughly yet, but even a cursory glance seems quite interesting.
Jimbocho Dig is still going on.
I introduced seven bookstores this time, but since the article became longer than expected, I had to cut some stores, and there are probably still some great bookstores out there that I have not yet encountered, so I will continue digging and introduce them on this blog when I have more material saved up.
There are countless other used bookstores in Jimbocho that specialize in a variety of fields, not just fashion.
You can find used bookstores by genre at this ↓ website.